ECOSPRAY Athens Technical Meeting
OCEANKING in cooperation with ECOSPRAY organized a technical meeting in relation to the latest technological developments in Scrubber technology.
The event was held at Intercontinental Hotel and it was very successful in terms of attendance and interest while many technical issues were presented and discussed.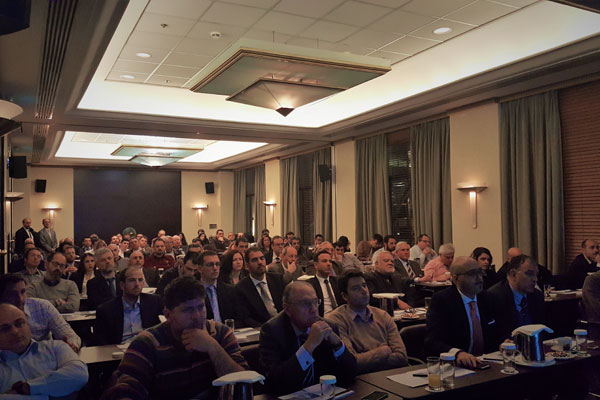 Event attendants at Intercontinental Hotel Conference Room
Mr. Guido Ceccherelli,  Ecospray Business Development Manager and Mr.Maurizio Archetti Vice President analyzed technical and commercial issues, i.e.  the  Main Technical Characteristics, of the  system, its competitive advantages (Catalytic Dry Filter Advantage  / HYBRID READY OPTION ) how we handle sludge from HYBRID system,  Installation for Open loop System and Hybrid system etc.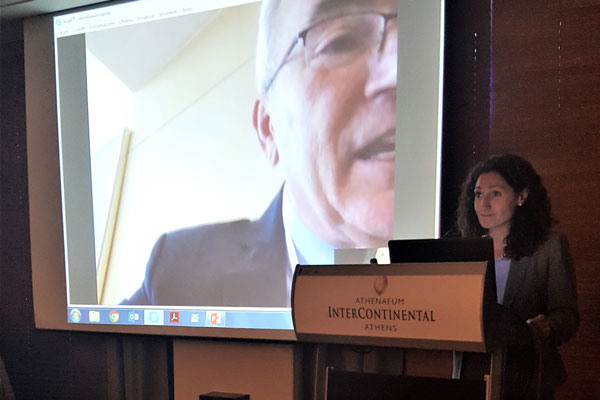 Ms. Carola Yannouli, Oceanking GM & Mr. Franco Porcellacchia, Vice President of Carnival
Ms. Carola Yannouli, Oceanking General Manager coordinated  a video conference with Mr. Franco Porcellacchia, Vice President of Carnival, regarding the operational experience from Ship-owner's point of view. Carnival has already installed ECOSPRAY in more than 50 vsls while a scrubber retrofitting  project for 21 vessels is in progress
Mr. Porcellacchia sharing his experience with the audience, highlighted the operational advantages by using HFO as well as that the return of investment for the scrubber solution is approx..2.5 years.
Last but not  least Mr. Petros Bellias, UNA Senior Engineer presented a process and feasibility study of a scrubber installation (Open Loop EGCS) in an existing Cargo Ship, (Aframax Tanker owned by Minerva)